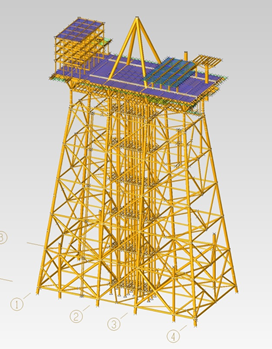 Introduction
For existing platform, owner carries an integrity assessment program to ensure their immediate and future structural integrity and to check their fit for purpose during the intended design lives or beyond.
Our Client was awarded this project for performing the structural re-assessment and design of repairs/ strengthening to restore the integrity of the Wellhead Platform. It includes Collection, Review and Assessment of all relevant existing data, inspection reports and documents. Site visits and review/verification of "as-built" drawings and post-incident platform condition.
Scope
Abyssal Technologies scope was to assist our client and to provide engineering services for the platform re-assessment as per standard offshore codes and practices along with company specification. The General Philosophy was to carry out three major analyses which is in-place analysis, seismic analysis and fatigue analysis by combining the operational, self-weight and environmental loads induced on the structure. In addition Boat Impact analysis was also performed to meet new Company criteria and to design clamps for retrofit of broken or damaged members.